With clients across North America and a community of users that stretches around the world, our Intelligent Availability® Platform – The Anvil! – is used by organizations ranging in size from small business to enterprise class in a variety of different fields.
The Anvil! puts the highest priority on stability and availability. Period. Far exceeding the standards of other industry high-availability and hyper-converged solutions including cloud offerings it is designed to be self-contained and is fully functional without any external network connection. The Anvil! emulates traditional hardware as completely as possible, requiring no special software inside the guest servers.
What does the Anvil offer?
System-wide Fault Tolerant; The entire platform is designed with complete redundancy and fault-tolerance. This resilient platform can can suffer most any failure without causing any interruption. This is the gold-standard and a key component of availability and uptime.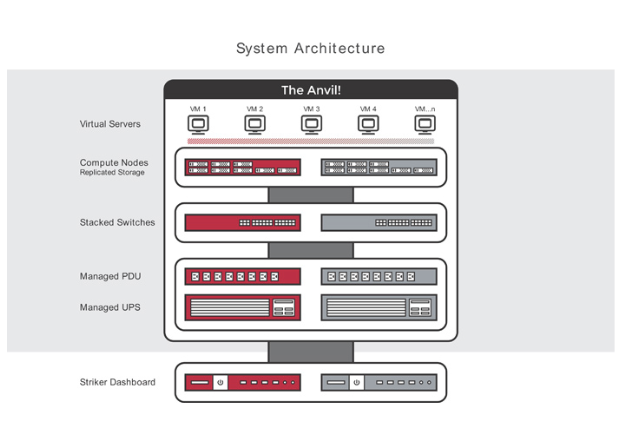 Intelligent Availability®: IA systems take High-Availability to the next level by using intelligence software to detect changing threats and autonomously take action to mitigate threats.
Self-managed, Autonomous operation; The platform can mitigate against interrupt events and even self-heal without the immediate need of human intervention.
The Anvil! platform delivers the enterprise class performance, protection and resiliency that today's organizations demand. It is a disruptive innovation that eliminates time, operational and resource risk factors associated with downtime. It operates autonomously, is fully redundant, fault-tolerant and can survive most any single hardware failure without interrupt. (Even if a node suffers a catastrophic failure, VMs automatically recover on the surviving node within 30-90 seconds). Best of all, it is turnkey and does not require any IT expertise to administer the system.
The Anvil! technology stack goes broader and deeper than any other platform. It breaks from the traditional High Availability model to converge compute, storage, networking, power and external monitoring to reduce operational complexity and lower total cost of ownership. This easy to use, reliable and stable Intelligent Availability® platform consolidates, simplifies and streamlines management all the while intelligently self-managing the entire platform and protecting server uptime.
It is a vital part of many "must not fail" applications in a wide range of organizations and markets.