The city of the future was on display recently at the Toronto Convention Center. The Smart Cities Expo brought together exhibits and a conference program of subject matter experts to take a look at the city of the future.
The Internet of Things (Iot) is not only changing the way we work but also the way that we live. IoT will make communities smarter by being innovative and by using data and connected technology. It will also strengthen these communities and create opportunities. This has created an unprecedented need to offer smart and innovative solutions designed to meet perfectly with the requirements of future smart cities. Smart infrastructure will ne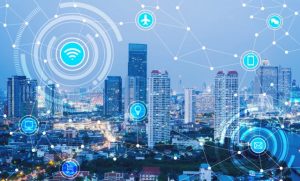 ed to be created/provided that has the capability to integrate with existing IT network of the city.
A major challenge with the proliferation of IoT devices is the ability to pull all the data generated back to a central DC for processing. It's becoming increasingly difficult to build a network with the bandwidth required to carry the data. This has led to the rise of "Edge Computing" which pushes computing applications, data, and services away from centralized nodes to the edges of a network. It enables analytics and data gathering to occur at the source of the data.
We've consolidated the ideas and recommendations from the thought leaders who presented at the Smart Cities Expo. What follows is their best advice on how to deal with the growth of IoT data and wrest back control of IT at the edge all the while keeping IT staffing needs to a minimum.
1. Seek out systems that can think and act for themselves. Autonomous platforms reduce or eliminate altogether the need for IT staff at the edge.
2. Focus on taming the Big Data beast instead of building a fatter pipe or investing in a sprawling infrastructure at the edge. The right server solution will accomplish both of these goals, save money and simplify IT administration.
3. Plan for growth. Data analysis requirements at the edge are only going to grow as operations become more decentralized and as IoT devices proliferate. Choose your IT infrastructure wisely so that it will grow with the increased data storage and computational needs of the business.
4. Make everything highly available. To compensate for the lack of skilled IT staff at the edge to restore failed components or restart systems, choose a resilient high availability server platform to preserve uptime.
The thoughts and advice that we gathered at the Smart Cities Expo were very strategic and customer focused. Planning ahead to deal with the big data that will be generated in smart cities will simplify system administration, improve reliability of operations and lower total cost of ownership.