It has never been more important to be ready for a potential system failure. Technology has become so sophisticated that threats can easily go undetected by traditional monitoring systems.
Alteeve are industry leaders in software and systems design, specializing in server uptime and operational continuity. Our commitment to protecting our clients has led us to continue to develop more advanced solutions for server protection and stability.
The Anvil! Intelligent Availability® platform provides peace of mind for your business and especially for your most critical operations. This on-premise virtual server platform provides high-availability, complete redundancy and autonomous operation.
It can be situated anywhere in your operation from the data centre to the most remote location. It will survive failures, self-heal, evade (avoid) interruption and continue to operate indefinitely with no user (human) intervention.
The Anvil! technology stack goes broader and deeper than any other platform. It breaks from the traditional High Availability model to converge compute, storage, networking, power and external monitoring to reduce operational complexity and lower total cost of ownership. This easy to use, reliable and stable Intelligent Availability® platform consolidates, simplifies and streamlines server management all the while intelligently managing the entire platform and protecting server uptime.
The foundation of the Anvil! is a dual-node cluster stack (on-steroids).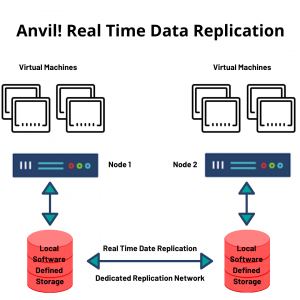 The entire system is designed for resiliency with complete, top-to-bottom redundancy of all platform hardware including multiple redundant subsystems This includes the power, networking and management layer; important components often missed by other systems. Dual nodes take advantage of internal software-defined replicated storage to ensure servers and data survive even catastrophic node failures. Separate dedicated redundant networks ensure continuous communications and real time data replication. Even power is protected with redundant managed UPSes and PSUs.
The Anvil! platform is an Intelligent Availability® platform. This means it has the following core features;
It proactively protects hosted servers. It predicts failures where possible and accounts for changing threats.
Full stack redundancy. All components can be completely removed and replaced without a maintenance window.
Availability is prioritized above all else.
Performance is kept consistent in a degraded state. It's not enough to be up if your performance falls below what is needed.
Focus on automation. Even the best people make mistakes, so automate as much as possible.
The Anvil! combines this resilient architectural design with intelligent decision making software to provide autonomous operation and server protection with minimal staff intervention. By making intelligent decisions about the platform's health and environment, the Anvil! proactively protects its hosted servers against changing threat conditions. Equally important, the Anvil! can survive hardware failure, self-heal and remain operational for extended periods before any intervention is required.
It is a vital part of many "must not fail" applications in a wide range of organizations and markets.
Discover how Alteeve can keep your business running no matter what the threat.
Alteeve is your benchmark in reliability.